Finally there is an online property management system where you can manage your properties for sale, contact management, task management, appointment diaries and rental administration, all in a single, consolidated and fully integrated system.

TEN4 Property is a very detailed property management system aimed primarily at real estate agents, property owners and rental administrators.

This system is fully bilingual (English and Afrikaans) at the push of a button.

The system has a wide range of functions that allows you to treat every property as a case, updating, monitoring and reacting to tasks to be performed, appointment diary, showdays, documentations, communication and much more. You can use any of the functions in isolation.
Ten4 Property Read more . . .
Full property management and sales administration system, including property register, areas, responsible people, communication log, uploaded documentation, appointment diaries, task management, online map, property criteria, images, related people, showdays, brochures and more.
Included
Ten4 Task Read more . . .
Full task management system per property and per staff member, with task tracking, documentation, due date and prioritisation of tasks.
Included
Ten4 Contact Read more . . .
Contact management system, where you can keep track of all your contacts, allocated per property and interfaced with appointment diaries.
Included
Ten4 Diary Read more . . .
Full appointment diary by staff member, by property, interfaced with task management
Included
Ten4 Rental administration Read more . . .


Offices
You are allocated one office. Should you wish to add additional offices, this can be done at a rate per office per year.
1
Users
You are allocated five online users. Should you wish to add additional users, this can be done at a rate per user per year.
5
Properties listed
You can list any number of properties on the system at no additional charge.
Unlimited
Contact people
You can list any number of contact people on the system at no additional charge.
Unlimited
Bandwidth
Subject to fair use policy, bandwidth is unlimited
Unlimited
Disk space
Disk space is limited to 100mb. You can subscribe to additional disk space at the rate of R100 per 100mb per year
100mb
Notice period
No notice period is required, you simply don't pay on renewal. The system will automatically suspend your membership.
None
Refunds
There is a 15 day, no questions asked, 100% cash refund, should you decide against subscribing.
15 days

Training is provided at your premises for up to 20 people. You can even invite people from other agencies if you wish. We will provide a trainer, laptop and projector. The training takes 4-5 hours. The once off cost of training is available upon request:
Take note
* A fair use policy exists. There is no limit on use of the system as long as it is not abused, eg where non-system related data is backed up on our servers. All prices are quoted in South African Rand, exclusive of VAT and per year, payable annually in advance, unless otherwise stated.

* Subject to TEN4 Standard Terms and Conditions of Trade

We can further assist you in the electronic importing and cleansing of your existing data, relating to properties, contact people and more.
Cleaning and import of existing data in electronic format (Excel or TAB delimited text)
POA
Manual data capturing from hard copy
POA
Subject to R300 minimum charge per import/data capture. Payment: 50% deposit, balance upon delivery. Please contact us for further information.

Features

TEN4 Property is a property management
and administration system, covering:
Detailed property register
Rental administration
Contact management
Task management
Appointment diary
Communication log
Full-size images
Property descriptions
Special features
Property criteria

Sales and marketing
Showdays
Brochures
Documentation register
Property watchlist
Help screens
Ten4 Property is a new and dynamic system with many new features in the pipeline that will be made available to subscribing members free of charge




Benefits

Each property is handled on a case by case basis with full activities, logs, marketing, task management, allocation to branches/staff and management reporting
Full integration with all functions and modules within the TEN4 portfolio of systems
The entire system is Internet based with no software loaded onto your computer. The system is therefore accessible from anywhere in the world using any PC, laptop, tablet or even cell phone
Seamless interaction with other TEN4 modules
TEN4 Contact
FREE

Contact management system


TEN4 Diary
FREE

Appointment diary application


TEN4 Task
FREE

Task management system


TEN4 Accounting
Optional

Financial accounting system
Available soon


TEN4 Domain
Optional

Web development application and hosting


System Overview

Property dashboard
Single dashboard screen per property that allows access to all property related functions
Content
Property details, including address, occupation date, property category, staff allocation, rental details, office allocation, marketing slogan, description of property, special features, etc
Categorisation according to status, ie For sale/To let, Sold, Rented, Suspended
Property criteria, eg bedrooms, bathrooms, etc
All contact people related to the specific property, including buyers, sellers, landlords, tenants, bankers, attorneys, service providers and more
Property documents including scanned documentation and correspondence
Multiple thumbnail and fullsize property images
Communication and activities
Communication log of all communication that has taken place between the interested parties
Contact management
Appointment diary
Full task manager application relating to the specific property, integrated to the general task management per employee

Rental admin
Full rental administration
Single dashboard screen per property that allows access to all property related functions
Generation of standard monthly charges, divided into fixed and variable charges, with the ability to update figures prior to invoicing
Ad hoc charges as required
Cash receipts from tenants
Invoices generated, including all charges levied
Statements of account generated as required
Rental management reports
Standard charges - to make it more efficient at month end, standards are created in general and refined per specific property
Asset register of assets belonging to the owner and provided for use by the tenant in terms of the lease
Sales and marketing
Showhouses, including scheduling, people that visited the show day and integration with the contact management application
Online preparation of brochures, complete with images, that can be printed or emailed
Sales administration procedures, including standardised procedures and ad hoc procedures relating to the specific property
Training

Training is provided at your premises to up to 10 people. You can even invite people from other agencies if you wish. We will provide a trainer, laptop and projector. The training takes 4-5 hours. The cost of training is as follows:

| | | | | | | | | | | |
| --- | --- | --- | --- | --- | --- | --- | --- | --- | --- | --- |
| Gauteng | R1 500 | | KZN | R2 500 | | Western Cape | R2 500 | | Rest of South Africa | On application |


Support

We are more than willing to assist you in importing your data from your existing systems, spread sheets and hard copy documents. Please contact us for more information. We charge a low fee for data conversion.

Generally, we don't charge for support. Due to the comprehensive nature of the systems, we do request that you attend one of our training seminars.

Please help us to improve the system even further. We appreciate any comments (good and bad) and aim to satisfy our every system related need.


Integrated links to other TEN4 Modules

TEN4 Property integrates seamlessly to other TEN4 Products. For a very reasonable monthly rental, you can have access to those other applications. The following modules will be released very soon:

TEN4 Accounting - due for release soon

TEN4 Accounting is a complete accounting module, fully integrated with TEN4 Property, aimed at the small to medium sized organisation. It covers books of entry (cash book, journal, petty cash), general ledger, invoicing, debtors, creditors, ordering, inventory, fixed assets, financial statements and more

Emailit

This is a mass emailing application, fully integrated with the TEN4 Property system. It allows you to send newsletters, notifications and marketing material to individuals, groups of people or your entire contact database. We have strict rules as to content, spam email or hate speech. A fair use policy is applicable. You only pay for what you use. It is a service that you can choose to use yourself or, if you wish, we can manage your mass communication on your behalf. More details to follow shortly.

Ten4 Domain

TEN4 Domain offers you an easy to use, highly effective web development kit where you can create your own website. The site is template based and the content easily amended to suit your specific image, style and message

Sample Screen shots
These are but a few random screenshots of what you can expect in the TEN4 Property system

Sample screen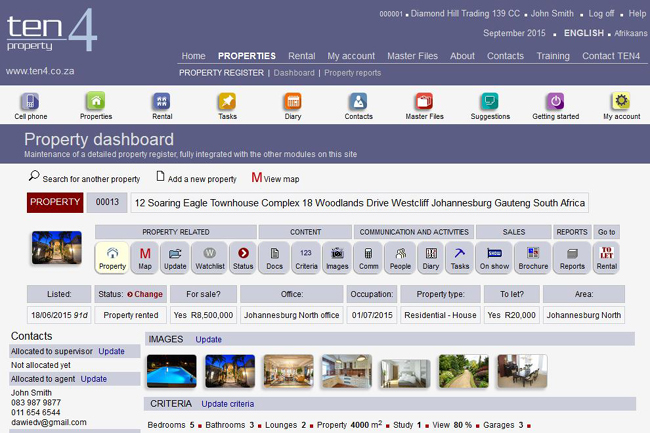 Sample screen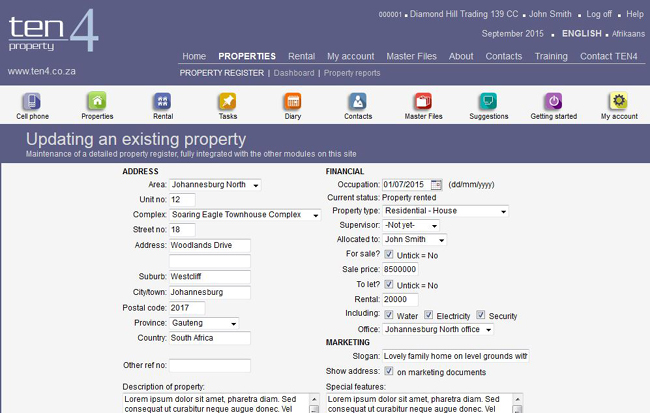 Sample screen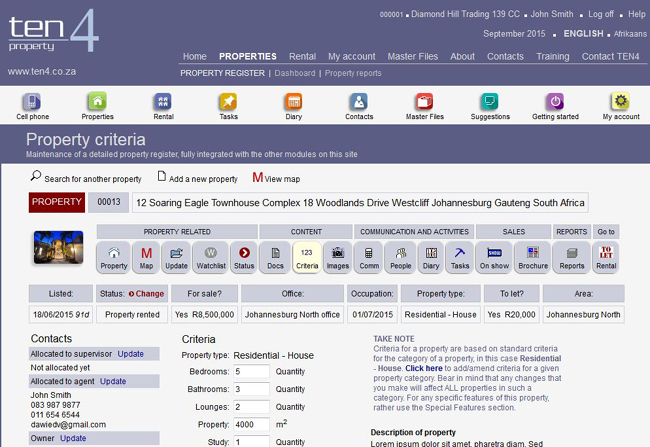 Sample screen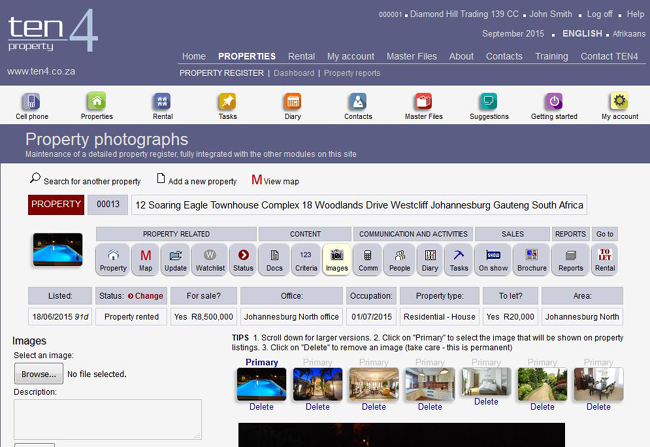 Sample screen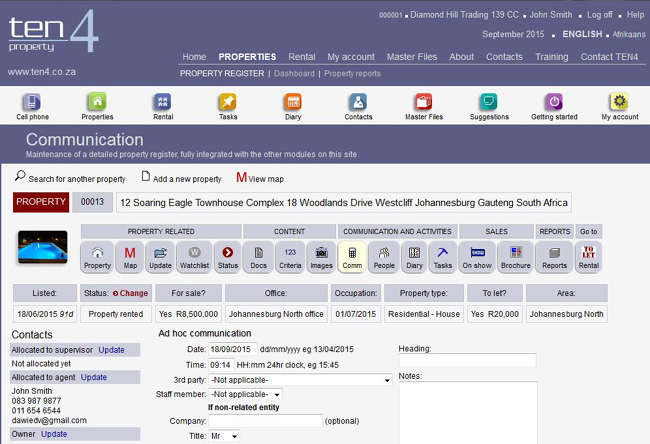 Sample screen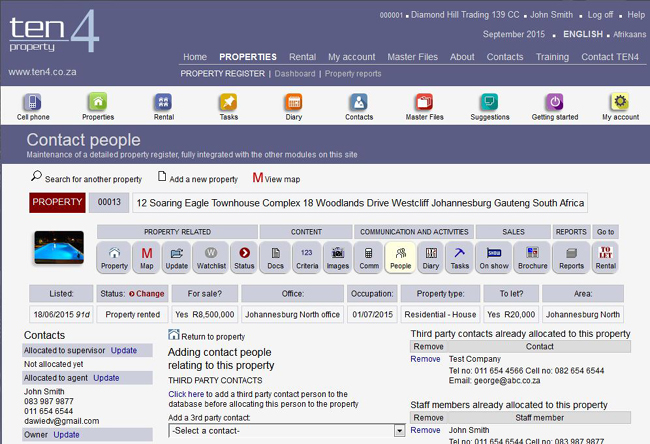 Sample screen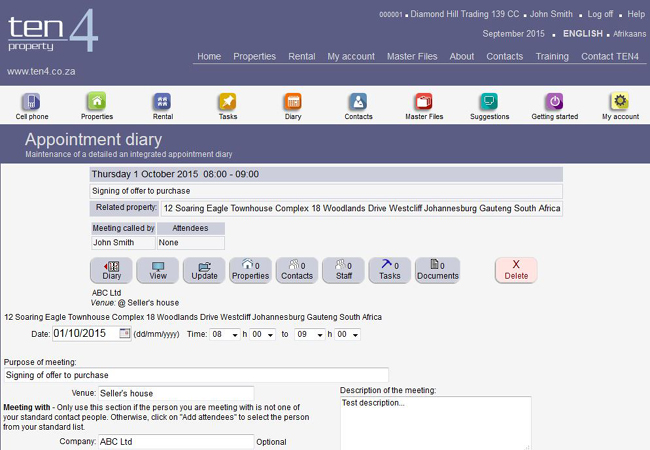 Sample screen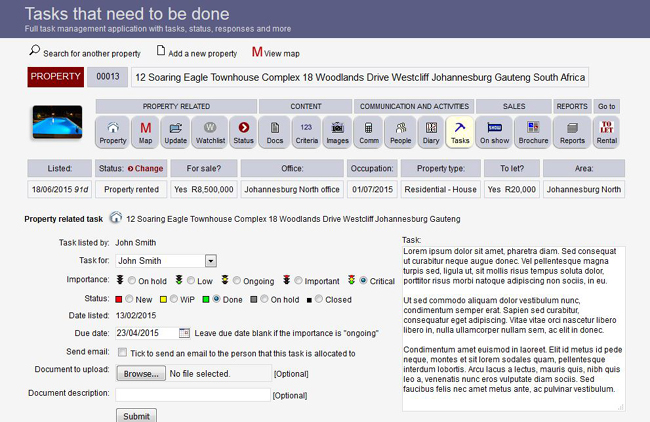 Sample screen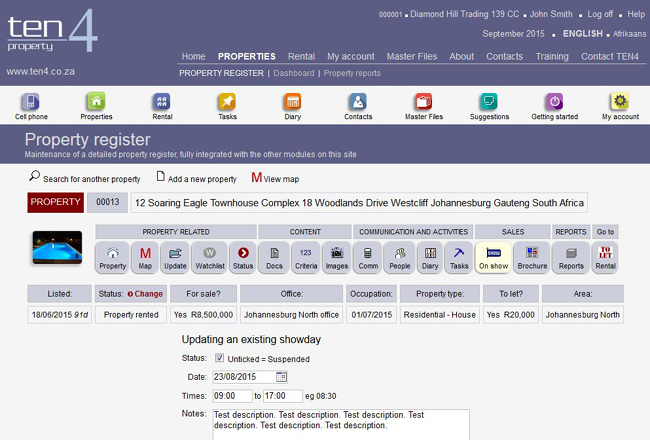 Sample screen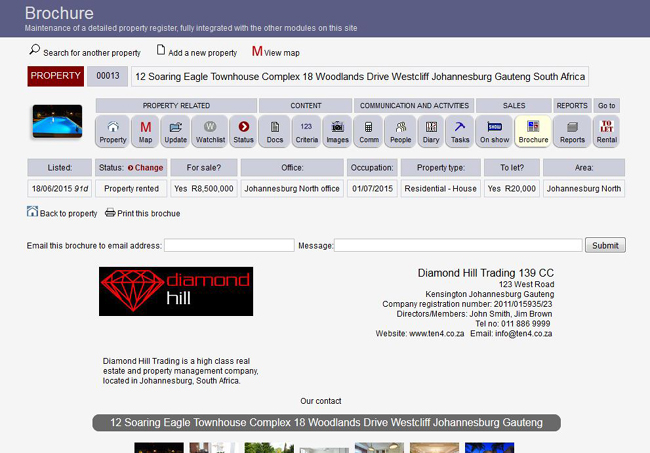 Sample screen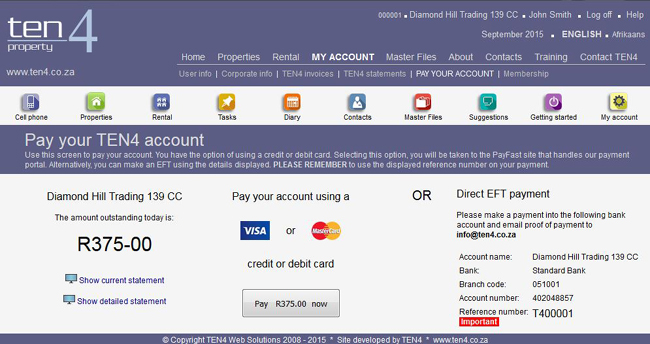 Sample screen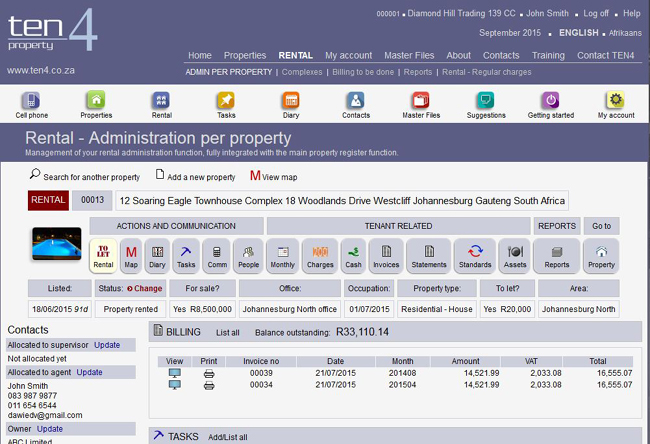 Sample screen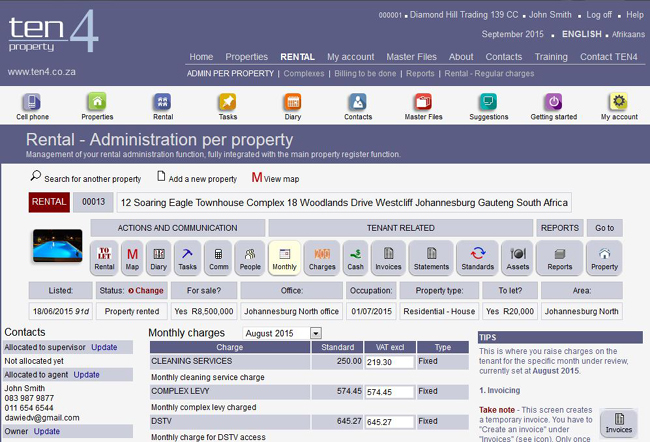 Sample screen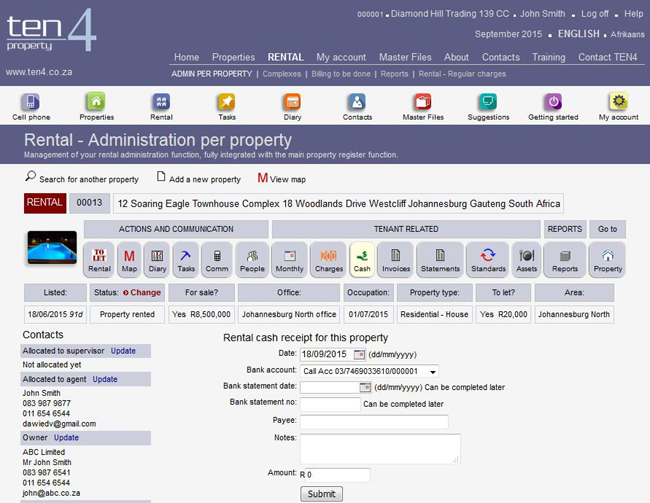 Sample screen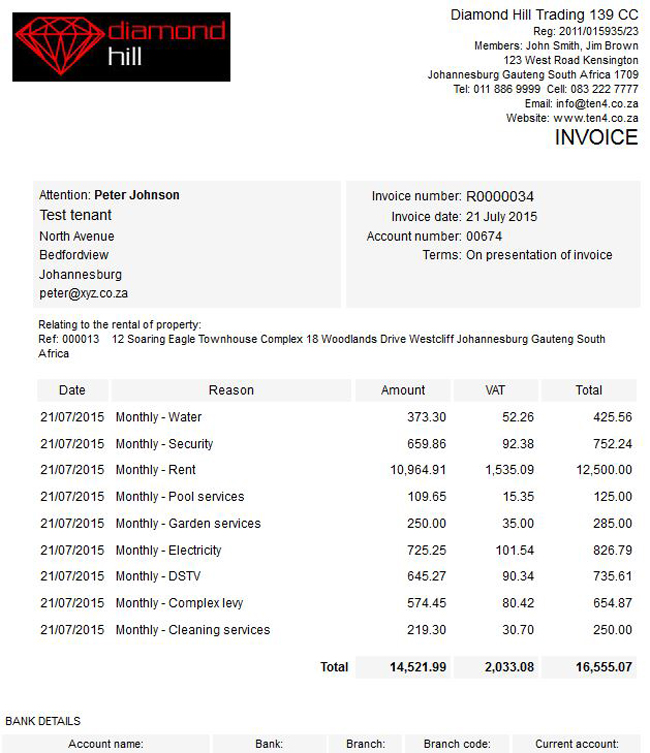 Sample screen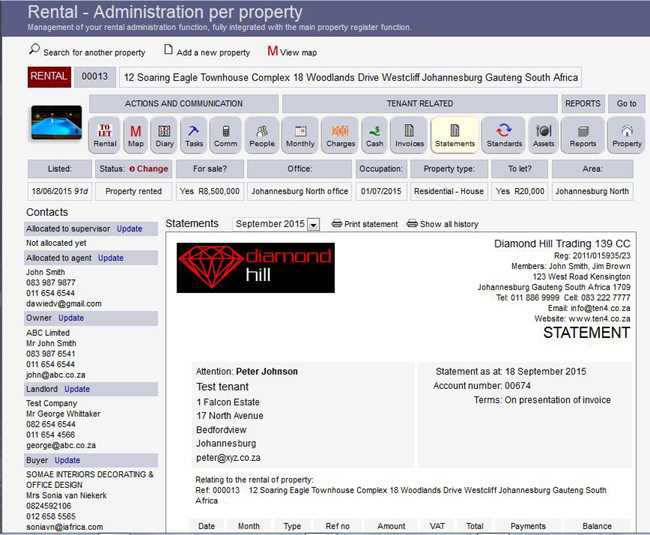 Sample screen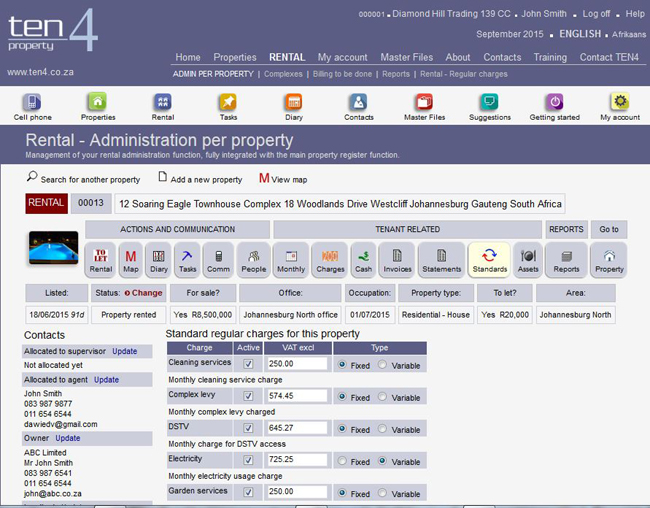 Sample screen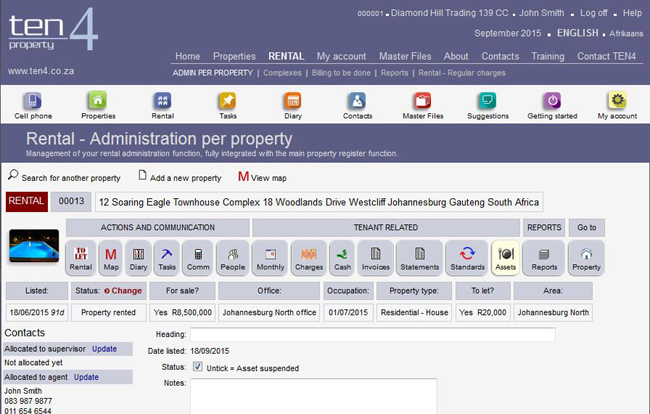 Sample screen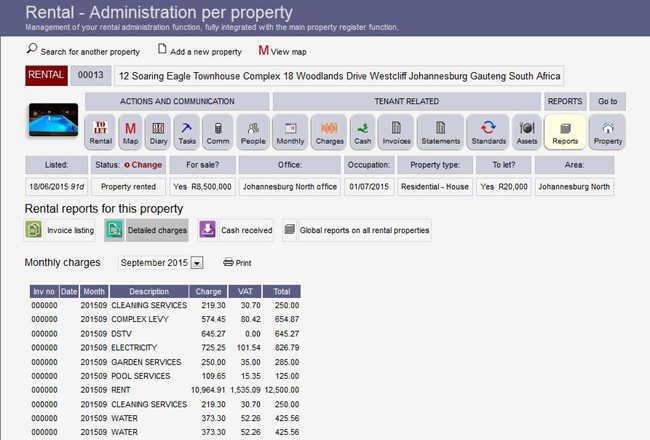 Sample screen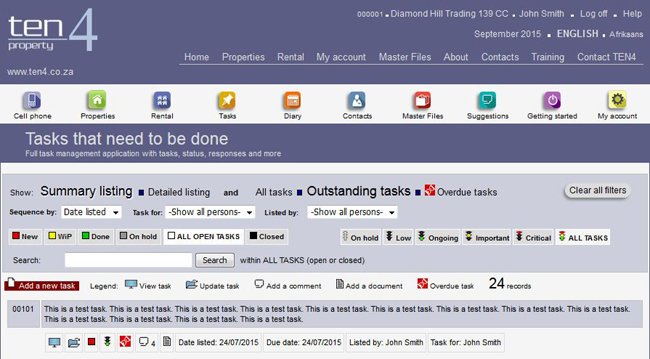 Sample screen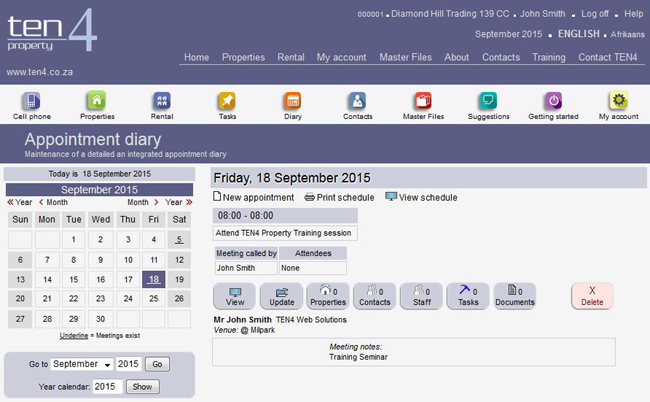 Sample screen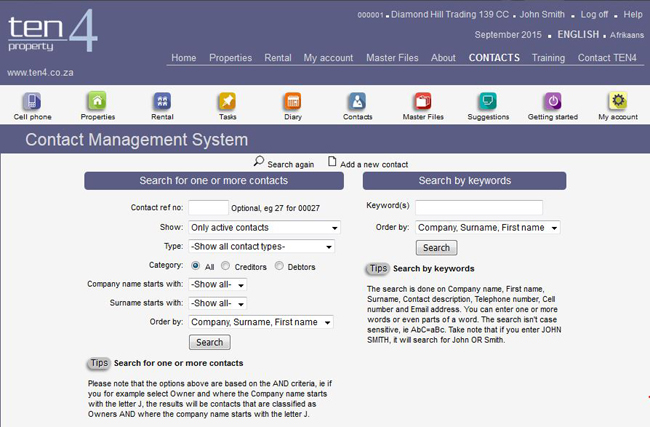 Sample screen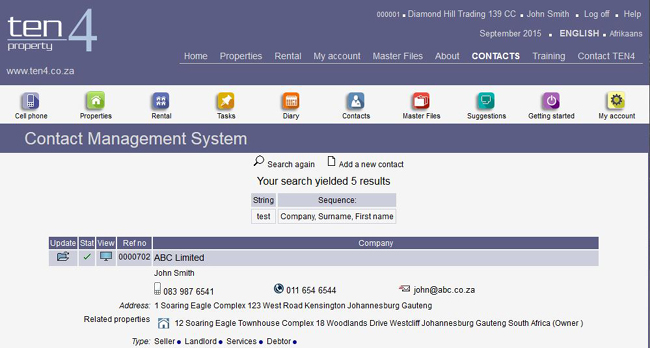 Sample screen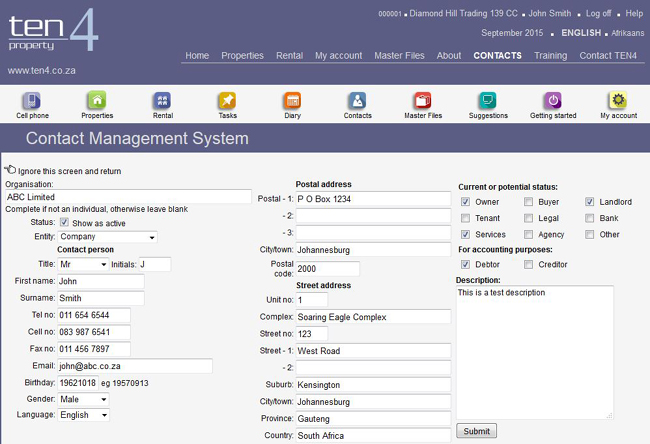 Sample screen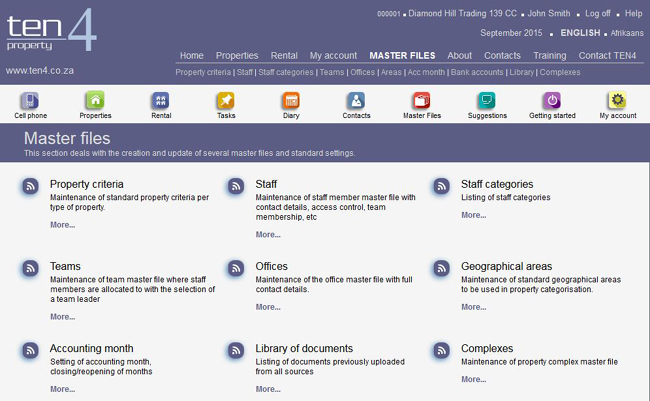 Sample screen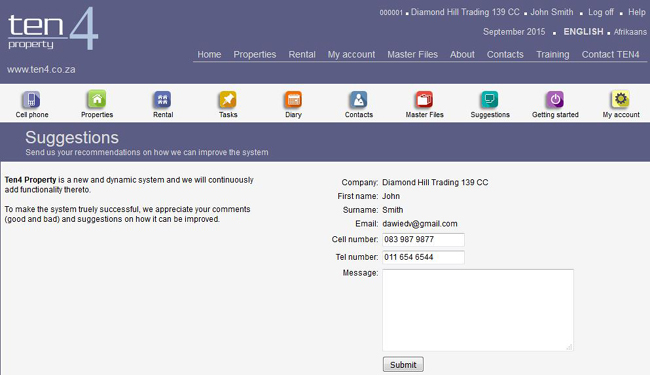 Sample screen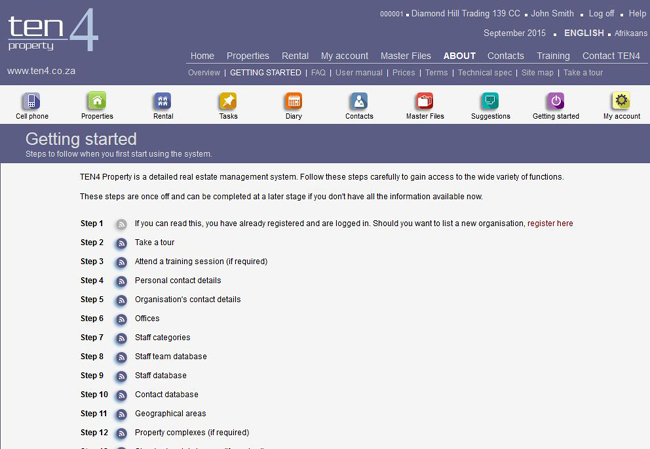 Sample screen